This article was last updated on February 17
The Nevada Department of Employment, Training and Rehabilitation (NV DETR) administers the unemployment compensation program for the state. The DETR is responsible for processing unemployment compensation claims and paying out benefits. This includes the various new 2020 enhanced unemployment benefits that have placed a significant strain on the already antiquated DETR systems and limited resources due to the record number of claimants. Further the widespread reports of fraudulent claims has meant longer processing periods and mass rejections of valid claims. See below for details on the newly enhanced unemployment benefits available and how to file a claim.
2021 Unemployment Program Extensions Under COVID Relief Bill – PUA and PEUC 11-week Extension Updates
The $900 billion COVID-19 relief package was passed into law on Dec. 27, 2020, which among several other pandemic relief measures extends and provides additional funding for enhanced unemployment benefits. This includes the Pandemic Unemployment Assistance (PUA), Pandemic Emergency Unemployment Compensation (PEUC) and a reinstatement, but halving of the Federal Pandemic Unemployment Compensation (FPUC) Program which provides a $300 supplemental weekly unemployment payment. These programs have been funded and extended for 11 weeks, covering the weeks of December 27th, 2020 to March 14th, 2021. Existing PUA and PEUC claims can be claimed until the week ending April 10th (phase out period).
[Update Feb 17th] The 11-week extension has been rolled out for the PUA and PEUC programs, but DETR continues to see technical issues with paying claims. For PUA they are not expecting to make payments until the end of May. The latest one (per the screenshot below) was one asking existing PUA claimants who were filing for the 11-week extension to file a new claim and be subject to a waiting period. This was incorrect and has caused payment delays which the DETR is looking to fix.
How long will it take before I can get PUA payments for the 11-week extension?
DETR is seeing thousands of applications being submitted and each claim requires a review for each week of PUA eligibility and will take some time. The Division recommends checking the website and your PUA account for any current/updated changes. They are also recommending choosing direct deposit for payment, which will process more quickly. Debit cards will take 7-14 days to arrive. Payments for PUA weekly claims are scheduled to begin by the end of May.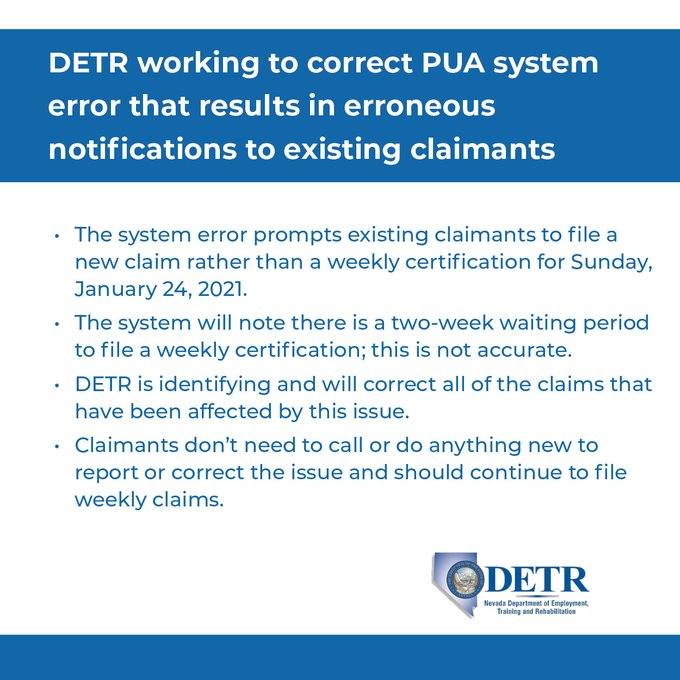 Will I Get the Pandemic Emergency Unemployment Compensation (PEUC) 11-weeks automatically?
While the PEUC updates for the new legislation have been applied there are some new rules to be aware of. Those who are currently receiving PEUC benefits under the CARES act, will continue to be on PEUC and their eligible weeks will be automatically extended.
Any claimant who had a balance on their PEUC extension as of 12/26/20 but had already filed a State Extended Benefits (SEB) claim early, will be automatically placed back on PEUC in order to capture the additional weeks. This may results in a weeks gap in benefit payments. Any claimant who had exhausted PEUC prior to 12/26/20 and went on SEB will stay on SEB. At the end of SEB, the claimant will be placed back on PEUC up to the expiration of the program.
[Update Jan 12th] – While Nevada has started paying the $300 FPUC payment to active claimants, it has not paid week 6 of the $300 LWA program (per updates below in LWA section). These are two separate programs and funded differently – the FPUC is federally funded under the COVID relief bill, the LWA program was funded via FEMA. Note that Nevada DETR also has to roll-out updates to PUA programs to cover the extended periods and allow those claimants to also get the extra weekly $300 FPUC.
Due to additional requirements for new PUA filers, DETR must update the PUA application programming before new PUA claims can be filed. Depending on the complexity of DOL guidance on changes, it is anticipated that these changes should be implemented within four weeks [so likely won't be ready till end of January 2020]

Nevada DETR
According to the Nevada DETR claimants with existing or expired claim balances should be aware of the following:
PUA and PEUC, FPUC will be automatically added to the claimants' benefits if they are eligible for the weeks outlined in the legislation.
Claimants with weeks remaining in UI should continue to file weekly claims.
Claimants who will have additional weeks in UI and PUA or PEUC due to the Continued Assistance Act should watch the DETR website for updates that will allow additional weeks to be filed.
Claimants will be caught up on payments for all weeks they are eligible.
Subscribe here (free) to get the latest news and updates. Also follow us on Facebook, Twitter and YouTube for real time updates and videos
---
Fifth Week of the Lost Wages Assistance Program Now Being Paid. Week 6 STILL NOT PAID
[Update Jan 12th, 2020] Week 5 has been paid, but week 6 is still pending as DETR is currently waiting to hear back from FEMA for funding to make this payment. While FEMA or DETR has not made an official comment I doubt this payment will be made as the overall program expired at the end of 2020. And with the new $300 FPUC payment (discussed above) already being sent, Week 6 may not ever happen.
[Updated December 16th] – While Weeks 4 and 5 have now been paid for most eligible claimants, there are still many reports of missing and delayed payments (see quote below). It does seem that PUA recipients are being paid first, likely due to the fact they had already certified their job loss was COVID related (an LWA requirement). Other UI program recipients, per comments below, are still awaiting Week 4 and Week 5 payments in particular.
Week 6 payments were scheduled to start this week, but it now appears that the DETR is awaiting more funding from FEMA to pay for week 6. Per their official statement, "As to the potential of the last week of assistance (week 6), unless FEMA approves additional funding to pay for a week 6, there will not be a payment for a week 6. DETR is currently waiting to hear back from FEMA." Again this does NOT mean that Week 6 is definitely not being paid, it just means that it is subject to FEMA funding which was budgeted for 6 weeks per state. But given the delays in Nevada's DETR LWA roll-out the program expiry date of December 31st may be the bigger risk of this payment being missed vs. FEMA funding approval.
You can see this video for a summary of the issues and potential solutions if you are having trouble with getting information on your LWA payment.
Lost Wages Assistance (LWA) in Nevada – Payments now processing and being paid
The Nevada DETR said that it made a small test run of $300 LWA payments during the week of October 12th to claimants in the Pandemic Unemployment Assistance (PUA) program. Actual LWA payments to all eligible claimants will take place over the next several weeks and payments will be processed in several batches given the significant number of claimants and system constraints.
[Updated November 30th] LWA Payments for weeks 1 through 4 have been issued. DETR has started making payments for week 5 of LWA to eligible claimants. As in round one, the process is expected to last up to 10 days. After week 5 is completed, DETR will make sure there is enough money left in the grant to pay the final week (week 6) of LWA.
[Updated November 11th] The Nevada DETR has said it has started processing ($300) payments for week 4 of LWA to eligible claimants this week. As in round one, the process is expected to last up to 10 days, DETR said. After Week 4 is paid, DETR will pay subsequent weeks for which they have funding.
Many claimants are not eligible for LWA payments because they are not receiving at least $100 in existing UI benefits (via regular state unemployment, PUA or PEUC) to be eligible for the program.
First 3 weeks of LWA payments now paid
DETR spokesperson, Rosa Mendez, said the first 3 weeks of LWA payments of $900 for those on PUA were paid in batches through 10/23 (confirmed based on article comments). From 10/23 to the end of October, those not on PUA will start getting their first ($900) batch of payments. The remaining LWA payments will also begin processing towards the end of October for ALL unemployment recipients, until Nevada runs out of LWA funding (max 6 weeks).
How to tell if you have been approved and how to tell how much you're getting
(Thanks to Brent for this comment) Login to your Claimant homepage. Go to the dates of 8/1, 8/8, and 8/15, and if you look at the deductions it should be "Y" for yes click on the "Y" and it will say "Lost wage Assistance" then -300 dollars for those 3 dates. This is good don't freak out it means your approved. Sorry if this is confusing its hard to explain because it shows up in a weird spot.
Amounts to qualified applicants will be paid retroactively to August 1 for 6 weeks (up to $1800 in total if you qualified for all 6 weeks). Several readers have acknowledged the lack of information and delayed payment relative to other states as you can see in the comments below. I will continue to post updates if new information comes to hand. See further details in the section below including a link to the NV DETR LWA page.
COVID 19 Enhanced Benefits
Under the CARES act, there are three types of federal unemployment assistance available:

• Pandemic Unemployment Assistance (PUA): expands eligibility for traditionally ineligible individuals for unemployment benefits, including independent contractors and self-employed individuals. Recipients may receive up to 39 weeks of benefit payments under this program.
• Federal Pandemic Unemployment Compensation (FPUC): adds $600 per week and the regular benefits that recipients of Unemployment Insurance are entitled to receive; the benefit is retroactive to the week beginning March 29, 2020, and the program expired on July 31, 2020.
• Pandemic Emergency Unemployment Compensation (PEUC): provides an additional 13 weeks of Unemployment benefits to regular unemployment insurance recipients.
If you have exhausted benefits paid through the regular unemployment and PEUC program, you may be entitled to receive up to 50% of the total amount received on your regular unemployment benefits through the Extended Benefit (EB) program. This program covers an additional 6 to 13 weeks of unemployment benefits, depending upon the number of weeks you were eligible for benefits on your original unemployment insurance claim.
Lost Wages Assistance (LWA) Payment Details and Schedule
In addition to the above enhanced benefits, you may be eligible for Lost Wage Assistance (LWA) if you are out of work due to COVID-19. If your weekly benefit payment is at least $100, and you were eligible for unemployment benefits, you may receive an additional $300 in assistance retroactive through weeks ending August 1, 2020 to September 5th, 2020. You do not need to file a separate request/application for LWA; however, you may need to self-certify to confirm that you are unemployed or partially unemployed because of COVID-19.
Applicants only need to self-certify that they are unemployed/partially unemployed due to disruptions caused by COVID-19. If they don't self-certify they may not be eligible to receive any of the $300 due to FEMA funding limitations.
Claimants do not need to apply separately for the benefit, or reactivate a claim if they were eligible during the qualifying weeks but have since returned to work. Those still in the backlog will be eligible for Lost Wages benefits if their claim is approved, DETR officials said. See more on the NV DETR LWA page.
Web and/or phone issues with accessing the unemployment systems
The DETR has experienced a high volume of unemployment benefits claims filed since the pandemic began. Given its lack of staff, the agency has had significant delays in processing claims and answering incoming calls. Also, federal assistance received required changes to their online processing systems, which delayed the processing of claims and benefits.
Initial Claims: If this is the first time that you are filing an unemployment claim under any of the federal or state programs available, you must first file an initial unemployment insurance claim to determine your eligibility and which programs may apply to you.
If you are eligible for regular unemployment benefits, you will receive a Monetary Determination Letter and PIN, typically within 7 to 10 business days of filing your initial claim. Your Monetary Determination letter lets you know what financial benefits you may possibly be eligible for; however, this may change based on the weekly claims you submit (addressed under Existing Claimants below).
Existing Claimants: Claimants receiving unemployment benefits due to the coronavirus pandemic must continue to certify every week to receive unemployment benefits under any state or federal program. This includes the additional FPUC $600/week benefit and the PUA program.
The extra $600/week compensation is retroactive to the week beginning on March 29 and ends on July 31. FPUC payments are automatically added to the weekly benefit payment.
Upon exhausting regular unemployment benefits, you must file a separate application to receive PEUC benefits.
Claimants that have exhausted both regular unemployment and PEUC benefits may be eligible for an additional 6 to 13 weeks of unemployment benefits under the Extended Benefits program. A separate application is required.
Filing an Initial Claim
You must file your initial unemployment claim through the DETR here. You will need the following information to file your first claim.
Social Security Number
Personal mailing address and contact information
Employment history for the past 18 months, including:

Employers' business names

The physical address for each employer

First and the last date that you worked for each employer

The reason you are no longer employed
Alien Registration number and the date your work authorization expires if you are not a US citizen
The name and local number of the union hall (if you obtain work through a union)
To file a new claim over the phone, the Customer Call Center is available at (866) 832-2363. Phone assistance is available from Monday-Friday 8:15 AM – 4:30 PM; Saturday 9:00 AM – 1:00 PM. You may also file an existing claim over the phone by calling (800) 897-5630.
To be eligible for Unemployment Insurance benefits in Virginia, you must meet the following eligibility requirements during the pandemic:
Unemployed or had a reduction in hours due to no fault of your own
Earned enough wages to be eligible for unemployment benefits
Filing Weekly Claims
You must file a weekly claim to prove that you are still eligible and qualify for unemployment benefits. Your weekly claim cannot be filed until the end of the workweek, which is Saturday at midnight. You have up to 28 days after the end of each week that you are unemployed to file this weekly claim. Weekly claims can be filed online or over the phone.
If you don't file your weekly claim within the required time, you will not be paid unemployment benefits for the week.
Existing claimants who are eligible for PUA log in here to file their weekly claims.
If there is a problem with your claim that must be resolved before benefits can be paid or you have appealed a denial in benefits, you must still file a weekly claim online or over the phone. If it is determined that you are eligible or if you win your appeal, you will be paid these benefits retroactively. However, if you win the appeal but have not claimed benefits, you will not be paid for these weeks.
I filed my unemployment claim several weeks ago. Will I receive back pay once my claim is approved?
Over the past few months, the DETR has improved its telephone response and claim processing time. However, the large volume of unemployment claims will result in continued delays. If you are eligible to receive benefits but have not heard anything back yet, you will receive retroactive benefit payments up to the date that you were determined eligible as long as you filed your claims each week.
This also applies to the FPUC $600 per week additional benefit, which expired on July 31. If you have filed an unemployment claim before that date and are still awaiting a response regarding your eligibility for unemployment, you will receive retroactive payments for the back weeks of FPUC. This is the case even if the decision is not made until after the July 31 expiration date.
If you are not eligible for regular unemployment, you may collect benefits under the PUA program. To determine eligibility, you must file a new unemployment insurance claim if you have not already done so. Once your eligibility is determined, you may complete a separate PUA application. You should continue to file weekly certifications during this process. If you are eligible for PUA benefits for weeks that have already passed, you may recover back pay if you submitted weekly certifications.
Can I still collect unemployment benefits if my hours have been reduced?
Individuals who work reduced hours due to the COVID-19 pandemic may still be eligible to collect partial unemployment benefits if your gross earnings are less than the weekly benefit amount. You must continue to file your weekly certification and report any of your wages in the week they were earned, not received. Wages earned may reduce your unemployment benefit.